Malmo is Sweden's third largest city, with a population of 300,000. Swedish is their official language, despite this, English is the language commonly spoken among the majority of the population.
Well known for day trips from Copenhagen, thanks to the great Øresundsbron bridge, Malmo certainly has incredible attractions that can win over even the most rigorous travelers.
Thinking about it, today we gathered some tips and a suggested itinerary of 1 or 2 days in Malmo.
When Is the Best Time to Visit Malmo?
Malmo is a city with an oceanic climate, with temperatures close to 0 degrees in winter and a few hours of sunshine. Therefore, it may be a good option to avoid the most severe cold seasons.
A good suggestion is to visit this city between May and September, especially in July and August, when the temperatures are warmer and more pleasant and the days are longer.
How many days should I stay in Malmo?
As we mentioned above, it is very common to have a roundtrip in Malmo from Copenhagen. This is due to the fact that the city is very well planned in terms of transport, making it possible to easily visit the entire historic center, where the main attractions are, in one day.
However, if you are looking for a quiet stroll to enjoy the city's parks and thoroughly investigate the city's historic spots, two days would be ideal to not miss anything during your visit.
Where to stay in Malmo?
If you are traveling by train, it is recommended to stay in accommodations close to the central station for a better commute. If you are driving, your options are numerous as Malmo has several impressive accommodations.
For more tips on accommodation in Malmo, check out this article with the 8 Best Hotels in Malmö, Sweden.
How to get to Malmo?
The most used options are train and car. The train system in the region is very advanced and works in an exemplary way. And thanks to the Øresundsbron point, getting around by car is easy too.
Check out our article 5 Ways to Travel Between Copenhagen and Malmö for more information.
What to eat in Malmo?
After venturing into Malmo you are sure to be eager to sample the cuisine that this city has to offer. The city is full of charming restaurants and cafes, so enjoy!
A good place for meals is the Lilla Torg, as this place is full of cozy establishments with delicious foods. A good example is Drumbar and Coffee Shop Pronto.
If you are looking to experience the local cuisine, Bastard, on the Mäster Johansgatan is a great option.
Itinerary in Malmo
Before we start to list the best attractions of Malmo, it is worth remembering that most of the attractions of this city are very close and the best way to explore them is on foot. So, do not hesitate to put on some comfortable shoes and go walking around the city to venture into Malmo.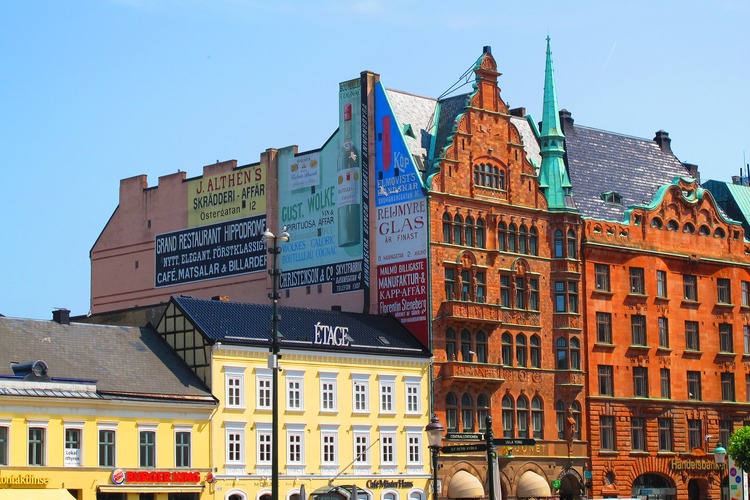 Visit Lilla Torg
This is one of the most beautiful places in the city, with colorful half-timbered houses from the 16th to the 18th century that are true Danish relics.
Despite this, the square itself is not so old, as it was renovated after being a parking lot for many years. Around the square are some charming restaurants and breathtaking buildings.
Be dazzled by Malmöhus (Malmö Castle)
To the west of Lilla Torg it is possible to find the large castle park, very famous among the Swedes for spending their free time.
Here, it is possible to have a picnic by the river, walk on the lawn and admire the castle building.
The castle was built in 1436 and is one of the most famous in the region, being the oldest Renaissance castle in Scandinavia. Nowadays, it is possible to find several museums in its interior.
Enjoy at Kallbadhuset and Ribersborgs Stranden
This is a perfect coastal walk, the Ribersborgs Stranden is a 3 km long beach and is perfect for a swim in the summer or a walk in the winter.
If you are visiting in the winter, do not be sad, several people still enjoy this beach even in cold weather. Whether to rest on the sand, visit the Kallbadhuset outdoor sauna or simply enjoy the view.
Enjoy the view at Mälmo Live
Mälmo Live is a cultural complex full of concert halls, accommodation, restaurants and various facilities. If you are tired of exploring the city, take a break there and enjoy the incredible view of the building.
Discover St. Peter's Church
This is one of the main churches in Malmo, and was built in 1319 in the Gothic style. It is impressive to admire this beautiful building, which is the oldest in Malmo.
Museet Museum of Modern Art
This museum is part of the National Modern Museet in Stockholm and features some 20th century art exhibitions along with an impressive contemporary collection. The place offers guided tours and is an incredible destination to visit with children.
Explore the Möllevångstorget neighborhood
This is one of the most amazing neighborhoods in Malmo, known for its multiculturalism and it is possible to find restaurants from almost everywhere in the world. In addition to the restaurants, there is a market and shops with international products and a fresh vegetable market. Enjoy and visit a local bar, you will certainly be well received!
Have fun at Folkets Park Amusement Park
This park is inspired by Copenhagen's Tivole and has skating rinks, a cultural center, amazing nightclubs, children's playground, lively bars, a golf course and a dance palace. No matter your age, Folkets Park will have an attraction waiting for you.
These were just a few of the tours and attractions I recommend you do, if you want to check out the full list, read article 10 Things and Activities to Do in Malmö, Sweden.
If you have a second day of travel in Malmo, book that day to calmly explore the parks like Pildammsparken, Slottsparken, Lund's Cathedral and the Museum of Modern Art.
Conclusion
Malmo is a passionate destination, so if you are in Sweden do not miss the chance to meet him! Although not well known around the world, this city is sure to impress you.
If you are planning your trip, check out our articles. We have some great tips for exploring and experiencing the best of Malmo.
If you have any questions or concerns about this article, write in the comments. It will be a pleasure to help you!