Malmö is a haven of attractions to be enjoyed by travelers and locals, with everything you would expect from a bustling European metropolitan center, from nightlife to cuisine and world-class museums.
Sweden's third largest city is also full of places to visit that offer a break from the city streets and, instead, transport you to ancient times, lakes, castles and cliffs that are common throughout Scandinavia and each more stunning than the previous one.
With a remarkable and endless public transport system to the possible places of interest near the central region of Malmö, it is easier than ever to take advantage of a paid tour to have experiences that will never be forgotten.
1 – A walk through the Swedish culinary fairs
Discover Sweden's culinary heritage through its taste buds. Try classic Swedish dishes like pickled herring, cured and smoked salmon and Scanian cured ham, as well as modern artisanal products like cheese, blackberry jam, cold meats, chocolate and ice cream from small producers and try some of the Swedish chefs.
Of course, all samples come with a story connecting them to the cultural heritage of Sweden and Malmö.
On the tour, Malmös fishing docks and new shopping venues in the Saluhall region are visited, taking a behind-the-scenes look and experimenting with seasonal specialties in restaurants and shops.
Duration: 1 hour, with a walk through Malmohus, Malmo, Skane County. On the way to the fishing pier, you can also see the huge Renaissance castles. The ticket can be purchased for US$ 58.
What's included:
• Food tasting
• Light snacks
• Snacks
• Professional guide
• All taxes, fees and handling fees
What is not included:
• Alcoholic beverages (available for purchase)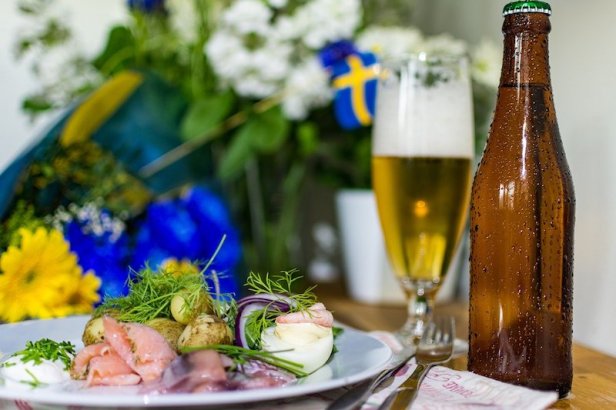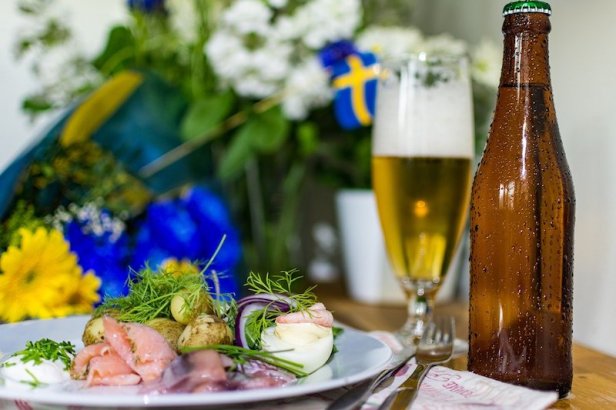 See Malmö on two wheels! Undoubtedly, cycling through Malmö offers a whole new perspective and is one of the best and most fun ways to see the city! On your 3-hour tour, you'll see all the iconic sights, as well as the hidden gems that make this city so special.
You will have a fantastic overview of the historic city as well as the thriving modern city.
This is a typical itinerary for those who want to know the city with the smallest details. Passing through Malmo, Skane County and several other castles, in just 15 minutes.
In some stops, like in the church of São Pedro, it is possible to have a direct contact with the history of Sweden. It also passes through the Skane districts and the Mitt Mollan galleries. The ticket can be purchased for US$ 61.12.
What is included in this tour:
• Personal and relaxed guided tour
• English speaking tour guide
• Bicycle tour including bicycle rental
• Registration / Admission – Nova Fairy Tales Malmo
What is not included:
• Gratuities and food

Float through the canals and under the bridges of Malmö, and discover all the wonders of this city. This shared tour, which lasts about 50 minutes through Malmö, brings all tourists a great introduction and overview of the city, and also informs about the most important points of each point. Guides, who are knowledgeable about the entire history of the city, comment on Malmö's history, buildings and personality.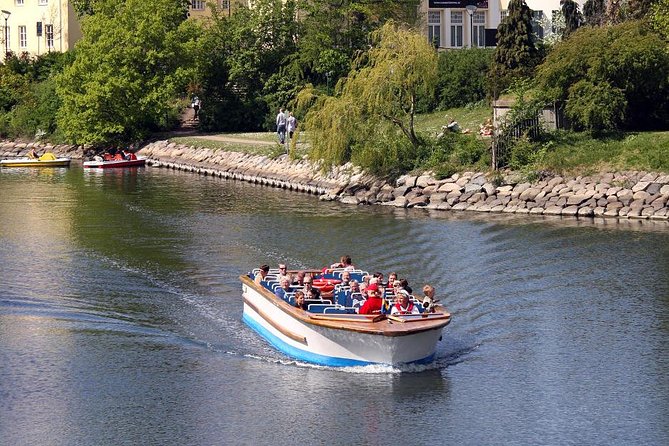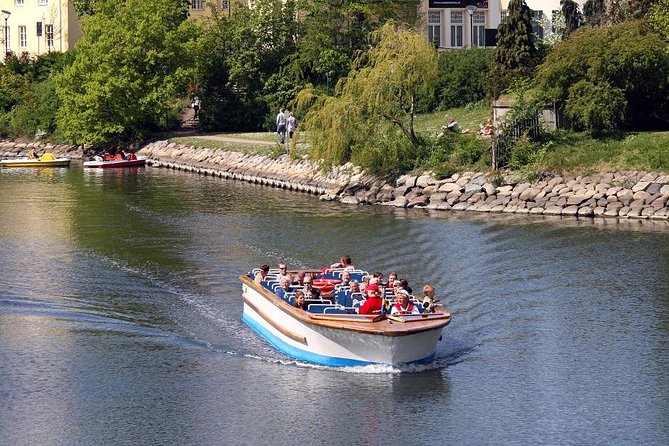 Departing from Norra Vallgatan, opposite the central station, this tour offers a great introduction and overview of Malmö city center for all tourists. While listening to your guide's information, you will pass through parks, the harbor and the Malmöhus castle in the old town, which will certainly receive special attention for everyone present on the tour.
On the way back, you will discover the modern part of the city Malmö. The boats are all roofless, offering the best view and photo opportunities. Get ready to duck when you pass under some of the lowest bridges in the city. Tickets start at US$ 18.00.
What's included:
• Open boat sightseeing cruise
• Live commentary
• All taxes, fees and handling charges
• What is not included:
• Gratuities
• Reception and delivery at the hotel
• Food and drinks

4 – Sweden sightseeing and shopping tour
For those who like shopping, it is possible to enjoy an exclusive trip to Sweden and visit shops, sights and all the other most popular shops. This tour goes from Copenhagen to the Malmö area, on the Swedish side, and includes landmarks and shopping opportunities, even for those looking to bring some souvenirs home, without spending a lot.
The guide, always prepared, will pick you up with a group of no more than 8 people at a given point.


Then, you will travel across Sweden crossing the famous Öresund Bridge, worthy of some first pictures. The best photos of the bridge are taken from the Swedish side, so the guide will certainly stop by.
In Sweden, the tour takes you to the special local store Vellingeblomman, world famous in Vellinge, a sophisticated village in the interior of Sweden, where you can start your first shopping in this truly unforgettable place.
Originally a florist, it is now a popular shopping destination for many Swedes and tourists who want to buy local products of various types. Take the opportunity to stroll through the flower garden, a place where flowers really stand out from the buildings.
While there, you should try the Swedish sweet Kanelbulle along with a cup of strong Swedish coffee, all on the house. Then, moving on to the city of Malmö, the third largest in Sweden, a stop will be made for a special lunch. Choose from local specialties such as herring or Swedish meatballs to eat, right in front of the sea.
In Malmö, the guide will show you some of the main landmarks of the city, which integrate the very well preserved ancient works with architectural constructions recognized worldwide, such as the old town, the Old Town and the Main Square. The iconic Turning Torso skyscraper is a must; the symbol of Malmö and at 190 meters the tallest building in all of Scandinavia. You should also visit Malmö's brand new municipal market. Why not try a homemade ice cream or buy a Swedish chocolade to take home?
At around 3 pm, you can explore Malmö's shopping opportunities on your own. You can walk between the stores on Södergatan Street or go to Sweden's second largest mall: Emporia, with a selection of 230 different stores. At the end of the day, you will take the fastest and most comfortable route back to Copenhagen, traveling on the first class of the train.
Your ticket is open, allowing you to stay in Malmö for as long as you want. Tickets start at US$ 196.00.
What's included:
• Local guide
• Bottled water
• Traditional Swedish snack (coffee and a savory option)
• Lunch
• All taxes, fees and handling charges
• 1st class open train return
• Coffee and / or Tea
• What is not included
• Alcoholic beverages (available for purchase)
• Gratuities
• Reception and delivery at the hotel
5 – Private bicycle tour in the interior of Sweden
Cycle through the countryside of Malmo, Sweden, on a private day trip from Copenhagen. With transportation to and from the Danish capital and across the Öresund Bridge, you will land in Malmö and start with a bicycle provided with a helmet.
Focus on the rolling countryside of southern Sweden as your guide takes care of navigation, then stop for lunch at a historic Swedish farmhouse. A private tour for you and your group offers the opportunity to cycle at your own pace. Tickets start at US$ 190.00.
What's included:
• Bottled water
• Lunch with local dishes
• Swedish local guide
• Coffee and / or tea Drinks / alcoholic beverages (available for purchase)
Are you running out of time? Then this is the tour for you! This is a unique Tesla trip through the city to the most famous landmarks. You will be accompanied by an audio guide that will guide you in each location. What are you waiting for? The ticket costs from US$ 120.13 for four people.
What's included:
• 30 minute ride via Tesla
• Audio guide
• Photo stop x 2
• Map
7 – Skåne bike tour from Malmö
Skåne has a diverse character, both in nature and in culture. If you are interested in both, a trip through Öresund to Malmö is the perfect experience! You will experience both cities and nature in the forests and by the sea.
For those who like gourmet food, it is perfect to combine with different flavor stops at farm shops or castle restaurants in the Skåne countryside.
It is an ideal tour to enjoy and experience the true Swedish delicacies, such as homemade drinks, smoked salmon, cheese and much more. Skåne's delights with locally produced ingredients can offer a new taste experience! The ticket costs from US $ 205.00 per person.
What's included:
• 24-speed touring bike
• Skåne – Malmö vessel ticket or vice versa
• Train tickets on the Öresund bridge
• Map with attractions along the way
Other Tours, Excursions, and Activities to do in Malmö
You can find and book a full list of tours at GetYourGuide and Viator websites: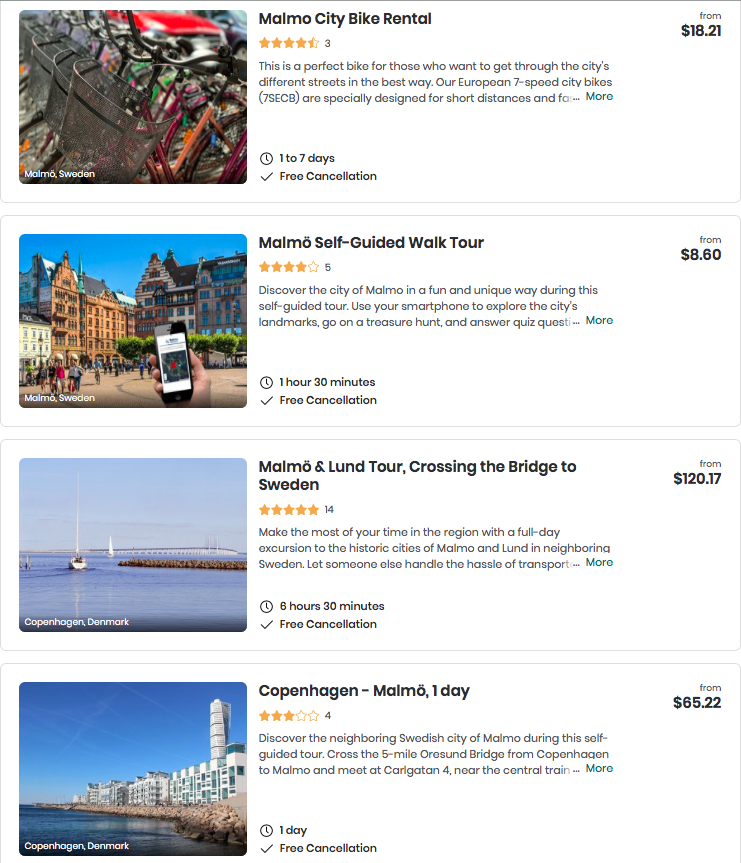 It is! Malmö in southern Sweden is a beautiful place with many activities to do. So be sure to visit it if you are passing through Sweden or even Denmark! If you still have any questions, just use the comments area below!